Climate Controlled Secure Storage • No Deposits • Month-to-Month Rentals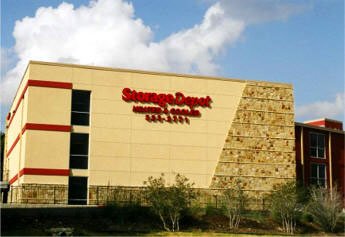 Contact:
Telephone: 512-323-2771
Fax: 512-323-2497
Office Hours and Access to Units 
Access to the units is by personalized keypad entry from 6:00 am to 9:00 pm seven days a week.
Office hours are 9:00 am to 5:30 pm Monday thru Thursday, and 9:00 am to 5:00 pm on Friday and Saturday.
Units may be accessed from the ground level or by large and conveniently located elevators. Pushcarts to load and unload are located at all entrances.
Directions:
5810 N. MoPac Expressway, Austin
StorageDepot Austin Northwest
Features
Two Convenient Locations
24 Hour video surveillance
Monitored Security Service
7 Day/Week Access
Month-to-Month Rental
No Deposit
Deliveries Accepted
Moving Supplies
Fax Service
No Administrative Fee
We have storage units in a variety of sizes and prices. 
Call us for availability and pricing for the exact storage unit you need.
Small – 5'X4' through 5'X9'
5X4—$72/m;   5X5—$89;     5X9— $114/mo
These units are like a larger closet but 8' high.
Medium – 5'X10' through 5'X15'
5X10–$124/mo.     8X8–$137/mo.
5X15–$154/mo.     8X9–$141/mo.
These units would be for a small one-bedroom apartment.  8' high.
Large – 9.5'X9.5' through 10'X10'
9.9X9.5–$181/mo.
10x10– $200/mo.
These units would be for a two-bedroom apartment.  8' high.
Extra Large – 10'X15' through 10'X20'
10X15–$263/mo;  10X16–$268/mo. 
10X20–$335/mo.
These units, carefully stacked, would be for a two or three-bedroom house.  8' high.
We would be happy to consult with you about your needs.
Please call for availability. 512/323-2771
All sizes and square footages are approximate. The above unit rates are subject to change at any time.
Safe and Convenient Neighborhood Location
Austin Owned and Operated
Free Trash and Recycle Container
Friendly and Helpful Manager on Duty
Clean and Polished Floors
If we don't have what you need, we will help you find it!